Guide for NT cylinder sets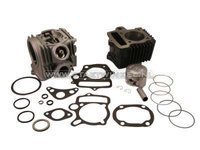 Guide for NT cylinder sets!
To help you narrow down your search for a cylinder set for your Honda four-stroke moped, we made a list. In this list you will find which set fits your model.

Please check first if your engine is an actual new type (NT) engine. In the list below the models are listed with NT-type engine. Is your model not listed in this list?
Please read further in our blog about OT cylinder sets. Is your model also not listed in that list, please contact us.
Models with a new type (NT) engine:
New type engines are recognizable by its 12 volt electrical system with CDI ignition, also referred to as electronic ignition. Honda engine codes: GB4, GK4 or GB2
If you confirmed your moped has a new type engine, please search the list below for the desired displacement. When you decide to keep using your old cylinder head, please pay attention if the desired set fits with your current head. Its also possible to replace the cylinder and the cylinder head at the same time.

PLEASE NOTE!
We assume that engines are original! If you are doubting that your engine is original, please contact us!

Do you have further questions after reading this blog, please ask them on the bottem of this page.

Please search for the article number to see the set.
50cc sets
70cc sets for NT 50cc cylinder head:
70cc sets for NT 70cc cylinder head:
85cc sets
nick
- 01-01-2021
ik zou graag willen weten of het mogelijk is om de 1110001005 of de 1110001148 ook op een hanway raw 50 is te plaatsen aangezien deze ook op een agm caferacer past.